Testifiers indicate a lack of security, consistency, and transparency with election drop boxes.
(HARRISBURG) – The Senate Intergovernmental Operations Committee hosted a public hearing today on the use of election drop boxes in Pennsylvania as part of the committee's continuing efforts to investigate Pennsylvania's elections.
While the hearing began with an unfortunate pre-planned disruption from Democratic members of the committee, the testimony resumed smoothly despite the political theater, according to Senator Cris Dush (R-25), chairman of the Senate Intergovernmental Operations Committee.
"It is deceptive for anyone to imply that the testimony given today by county election officials and local leaders was anything other than authentic and true," said Dush. "The decision by Democratic committee members to abruptly leave today's hearing was not only unproductive and dramatic, but it was also incredibly disrespectful to the testifiers who want nothing more than to help this committee work towards ensuring election integrity."
Four testifiers including county election officials and local leaders from around the Commonwealth testified that drop boxes, as implemented in Pennsylvania, are problematic.
"The testimony we received today regarding the blatant misuse of drop boxes throughout this state made several points clear: Ballot stuffing does occur in Pennsylvania, video surveillance alone does not prevent ballot stuffing, and we owe it to the citizens of this Commonwealth to fix the issues immediately," said Dush. "It's important for the public to understand that the General Assembly never voted to allow drop boxes in Act 77 or elsewhere, and the utter lack of reliable security surrounding these drop boxes is appalling and unacceptable."
In her capacity as County Commissioner, Leslie Osche shared testimony regarding the reasoning behind Butler County officials voting against the use of drop boxes after the Pennsylvania Supreme Court allowed them.
"As a Board of Elections, we take seriously our role in protection of the chain of custody of ballots," said Osche. "But in the instance of mail-in balloting and drop boxes, we as the Board of Elections have no way of protecting that ballot from the time it leaves our Bureau office to the time it is returned. The use of drop boxes does nothing to help us protect ballots, but instead creates just another variable in need of monitoring. At the very least, a U.S. mailbox has federal protections and serious repercussions tied to its use or misuse."
Another county leader, Joe Vichot, Chairman of the Lehigh County GOP, told the Committee about the discovery of video evidence that depicts ballot stuffing in Lehigh County. He shared the untampered footage during the hearing.
"My suggestion would be to suspend the use of drop boxes until we can get a safe system in place that effectively ensures the security of ballots," said Vichot.
Jessica Morgan, a Judge of Elections from Luzerne County, also testified of her personal interaction with an individual hoping to stuff a drop box by depositing multiple ballots that did not all belong to them into a drop box. Ms. Morgan said she immediately reported this unlawful activity to the authorities.
Finally, Dr. John Lott, the President of the Center for Crime Prevention, testified to the issues with drop boxes particularly when compared to their use in other countries around the world.
"Ballot boxes facilitate vote harvesting, and vote harvesting facilitates vote buying," said Lott.
The hearing today was a part of a larger effort to examine Pennsylvania's elections in order to identify and address election irregularities and strengthen our voting laws.
VIDEO: The Senate Intergovernmental Operations Committee hosts a public hearing on the use of drop boxes in Pennsylvania as part of the Election Investigation.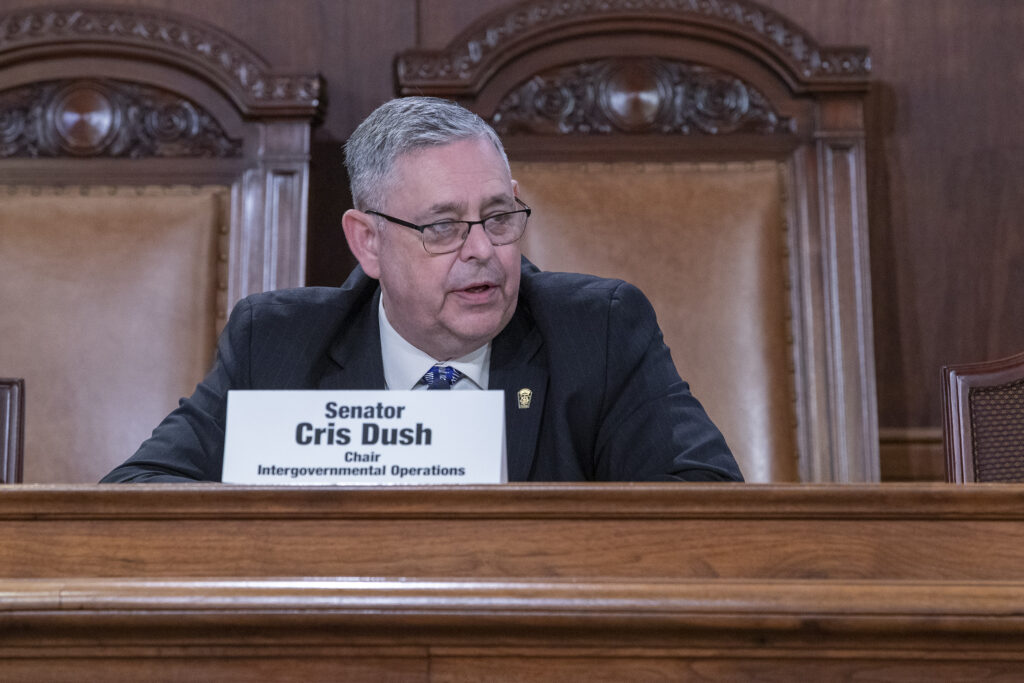 Senator Cris Dush (R-25) questions a panel of expert testifiers at a hearing of the Senate Intergovernmental Operations Committee on the use of drop boxes in Pennsylvania elections.
CONTACT: PA Election Investigation